Mike Downes -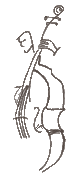 "This bass ace is incapable of letting you down" - Midwest Record
   Multiple JUNO award winner Mike Downes has been a prominent Canadian bassist, composer, arranger and educator since the early 1980s.  His musicality, emotional depth and melodic approach to the bass have thrilled audiences in Europe, Japan, South Korea, Brazil, Mexico, Israel, Iceland, the United States and Canada. In addition to leading his own groups, Mike has performed with virtually all of Canada's top jazz musicians, including Molly Johnson, Oliver Jones, PJ Perry, Lorne Lofsky, Don Thompson, Kirk MacDonald, Robi Botos and Pat LaBarbera. He has performed with international artists Pat Metheny, Chris Potter, Michael Brecker, John Abercrombie, Peter Erskine, Kenny Wheeler, John Taylor, Dave Liebman and many others.
"Mike's time playing is delightfully inventive...his lines are clear, hip, and agile. His technique and intonation are extraordinary" Jazz Player Magazine
   Mike began playing bass at the age of eight, encouraged by his bass-playing father. He also studied trombone and piano and was quickly recognized as a upcoming talent. He began performing as a teenager in Winnipeg, Canada, playing in diverse settings from rock bands to big bands and from corporate functions to television and radio shows. After being named "Jazz Musician of the Year" in Silver Heights Collegiate, a high school reputed for its music program, he was offered a full scholarship to study bass and trombone at St. F. X. University in Nova Scotia. After two years at St. F.X. he completed a Bachelor of Music degree at McGill University in Montreal. He was already balancing a professional career with his studies. After graduating he was awarded a Canada Council Grant to study with bassists Dave Holland and John Clayton. Mike moved to Toronto in 1990, and later completed a Masters degree in Music Composition at York University.
"As gifted a composer as he is a bassist" - International Society of Bassists
   In 1994 Mike formed the Mike Downes Quartet, featuring saxophonist Phil Dwyer, pianist Dave Restivo and drummer Ted Warren. That group performed regularly in Toronto and recorded Forces in 1995. As part of a cross-Canada tour the band recorded for two days in CBC studios in Winnipeg. That recording was later released as Then. In 2004 Mike's trio recorded The Winds of Change, chosen as one of the year's top CDs by JazzFM91. Mike's next trio recording, Ripple Effect, featuring pianist Robi Botos and drummer Ethan Ardelli, won a 2014 Juno Award winner for Traditional Jazz Album of the Year. Following that Mike ventured into large-ensemble writing and released In the Current (Addo Records) featuring an 11-piece chamber jazz group made up of some of Canada's finest musicians. Mike's most recent recording Root Structure, featuring his present quartet with Robi Botos (JUNO Award winner 2016), Ted Quinlan (JUNO nomination 2003) and Larnell Lewis (Grammy award winner with Snarky Puppy 2017) won Jazz Album of the Year:Solo at the 2018 JUNO Awards.
"Downes' playing is marked by an unerring and versatile technique, the kind of bass playing that's never static yet nevertheless establishes a firm foundation" Textura
   Mike's extensive discography also highlights his work as a performer, arranger, composer and producer for other artists. Aside from his own recordings, other JUNO award-winning or nominated recordings include Robi Botos's Old Soul, Larnell Lewis's In the Moment, Molly Johnson's Meaning to Tell Ya, Lucky, Another Day, Messin' Around and Because of Billie, Shirantha Beddage's Identity and Momentum, Lorne Lofsky's Bill Please, Jens Lindemann and Tommy Banks Legacy Live, and Ranee Lee's Dark Divas and Maple Groove.
"Downes exerts an enormous influence on this music with unforced novelty and naturalness. His traversal of the ten songs is spellbinding" Toronto Music Report
   Helping to mentor and inspire young musicians is an important component of Mike's career. He has been the Bass Department Head at prestigious Humber College in Toronto since 2000. He has also been featured as a Yamaha artist/clinician throughout Canada, at the Paekche Institute in Seoul, South Korea and the infamous Conservatoire de Paris. Mike is the author of The Jazz Bass Line Book published by Advance Music of Germany. The book is receiving world-wide acclaim as one of the most informative books available on the subject. He is also co-author of Jazz and Popular Music Theory.
"Emotionally direct, profoundly lyrical bass work" - The Whole Note